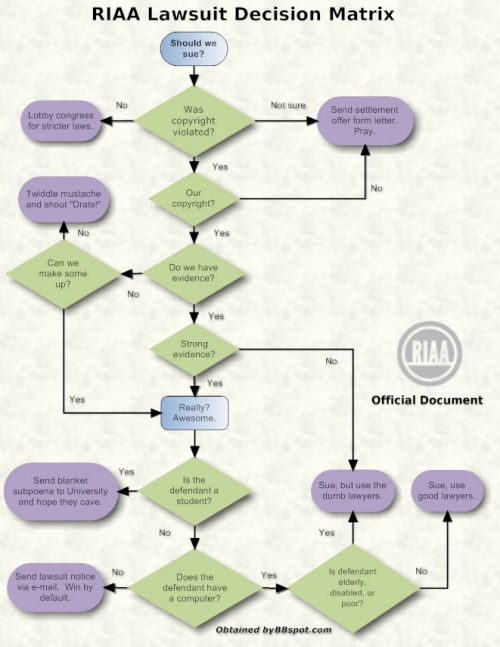 This is making the rounds today. Hilarious. BBSpot.com
A bit of from Jonathan Todres at the NYU legal writing program via The Volokh Conspiracy: Editing Tip for Law Students.
When you're editing someone else's work — for instance, if you're a student who's required to edit a classmate's paper, or a law review editor editing a faculty member's work — ask yourself, "What have I learned about my own paper from editing this other paper?"

As with all attempts to see the flaws in one's own work, this isn't easy to do well. But it's good to try. For instance, if you see some arguments that were meant to be rhetorically flowery but come across to the reader (you) as mere bloviation, ask yourself: Is there similar rhetoric in my article that I like but other readers may be turned off by? If the sarcasm in the article you're reading comes across as stridency or excessive combativeness, ask yourself whether your work suffers from the same problem. If you're seeing lots of redundancy or needless abstraction, look over your own work with an eye towards finding the same problems.
Good advice for those finishing up their appellate briefs for Legal Research & Writing. Effective listening is often the key to knowing what to say.
If you're like me the sonorous northern twang of Arthur Miller's Brooklyn accent (from the CivPro Sum and Substance series) is burned into my brain. For that reason, this brief exchange, from Miller's oral argument before SCOTUS in Tellabs v. Makor seemed particularly hilarious.
Scalia clearly was on the side of the companies, chiming in from time to time to make Miller's difficult task a bit harder.

After one remark, Miller let loose: "Is that because you never met a plaintiff you really liked?"

Lawyers who argue at the Court are advised to devote their precious time to serious matters because jokes often fall flat.

But this one didn't. There was laughter and an "ooh" from spectators. Justices Stephen Breyer and Clarence Thomas laughed for several seconds, even after arguments resumed.
Granted this would not be particularly funny in any other context, but it is the Supreme Court and it is Scalia and I'm willing to wager this moment gratified the latent desires of many of many less forthright advocates to appear before the court.
Law.com: Scalia and Harvard Law Professor Trade Barbs in Court
Nothing up yet, but it might be worth checking back in the not too distant future to see if the audio of the oral argument pops up on Oyez.org.
Oyez.org: Tellabs Inc. v. Makor Issues & Rights
Note to self, probably not something to try out in the moot court competition this weekend…
Well, ok, not any more. That position has been 'downsized', but it really was a job. According to Wikipedia:
Formerly, during the canonization process of the Roman Catholic Church, the Promoter of the Faith (Latin Promotor Fidei), or Devil's Advocate (Latin advocatus diaboli), was a canon lawyer appointed by the Church to argue against the canonization of the candidate. It was his job to take a skeptical view of the candidate's character, to look for holes in the evidence, and to argue that any miracles attributed to the candidate were fraudulent, etc. The Devil's advocate was opposed by God's advocate, whose job was to make the argument in favor of canonization. The office was established in 1587 during the reign of Pope Sixtus V and was abolished by Pope John Paul II in 1983.
A BBC radio story on the canonization process of Pope John Paul II turned me on to the subject this morning. If the abolishion of the position has dashed your current professional aspirations, fret not, you may still yet find yourself in a canonical practice.
Are you a procrastinating 3L with no discernible career prospects? Staring down the barrel of a career in BigLaw? As you've no doubt heard ad nauseum, a JD can give you entree into many other exciting careers, even perhaps as amazing as Assistant to Agent – Gaming.
The Beverly Hills office currently has an opening for a highly motivated, technology savvy, research oriented assistant to a creative and very busy agent who specializes in video games.
But of course, don't expect that J.D. to set you apart from the other applications, because either that or an MBA is required –
The ideal candidate should live in the greater Los Angeles area and must possess the following: a four-year degree from an accredited university and either a JD or an MBA, excellent interpersonal skills, and proven ability to multi-task and meet deadlines.